news!!! news!!! news!!! news!!!
El Niño
and other Acts of God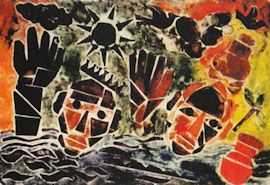 Please tell us your thoughts and experiences on this topic.
You may also paint a picture on the topic, scan it in and send it to us by e-mail: info@kkm-berlin.de.
We will publish your pictures and texts to our website, where they will help to build a bridge between continents, countries and children.
Your thoughts and experiences will inspire the broader public to evolve a more conscious attitude towards the environment and humanity.
© Kinder-Kunst-Museum e. V.